This example implements a simple todo list app using Vasern as data storage and React Native. It demonstrates basic CRUD operations of Vasern (get, insert, update, delete data).
Features
Add, delete todo item
Add, delete sub todo item
Demo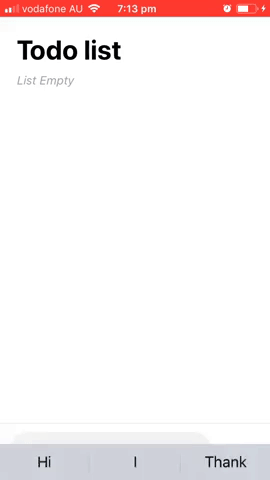 Installation
Clone or download Vasern from Github repository into your computer.

Navigate to examples/vasern-todo and run command from :

Install npm dependencies, (1-3 mins)

$ npm 

install




Link Vasern using rnpm, or follow instruction on our main "README.md" file

$ 

rnpm link vasern


Run project.

For iOS, Signing certificate then run the app on your simulator using xCode Project locate at "examples/vasern-todo/ios" or using command react-native run-ios.
For Android, run command react-native run-android.
Other libraries used in this example
Troubleshooting
React Native 0.57 on Android, java.lang.String cannot be cast to com.facebook.... View solution

In some cases, try to clear caches (and on Android, remove android/build and android/.gradle).